Bempton was the main attraction for going to East Yorkshire on Holiday so it was only fair we would rack up a fair few sea bird images on the trip. We made two visits to bempton Cliff's, one pleasantly on my Birthday. I ended up with a variety of images, you wouldn't think images of Gannets in flight Could vary much but the light often changed, though not always for the better.
These images are a mix of both Days, however the first day didn't end up as good as we'd hoped as the Wind direction was wrong for the birds to fly high and we were mostly looking down on the birds, not the best thing for photography.
This was my favourite shot from the first day as it's unlike anything I've caught before.
It was nice to see a Gannet Sat quite close by, We had them even closer last year right at the top of the cliff but a plague of Pollen Beatles made it a struggle to appreciate what we had on offer.
This Gannet flew Past, no not with a cigarette in it's mouth! But a Single Large Feather, Probably doing some nest building, though it must be slow progress.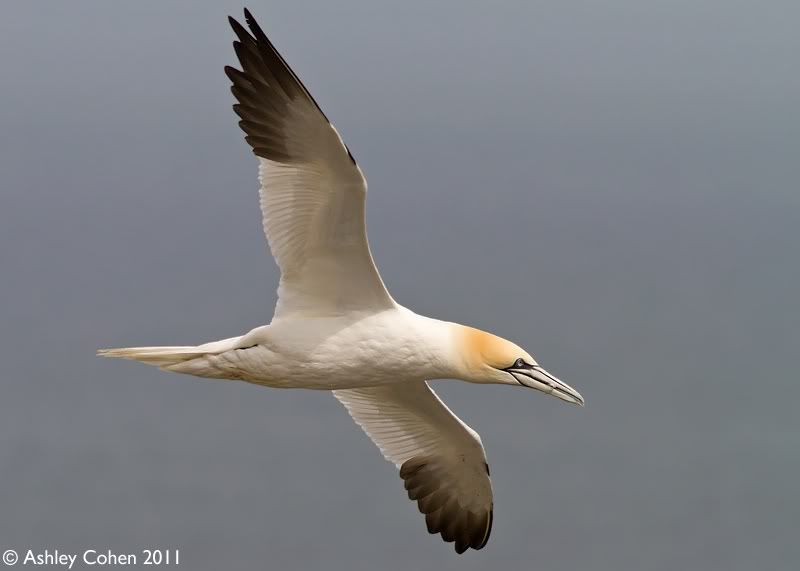 A close fly by of a Gannet.
Also a fair bit easier to Capture on camera this year were the Kittiwake's, which were flying back and forward between the fields collecting large amounts of grass for Nesting Material, a bit of field craft watching there flight path allowed a few good shots but the sky had greyed over at that point creating often flat images.
Next time I'll finish off my Sea bird Adventure with more from Bempton's fantastic Cliff's.